The SSPA seeks to circulate information relating to people of short stature to all sectors of the community in order to promote a full understanding of their problems, their abilities and their need for equality of opportunity. In order to achieve this objective, the SSPA has the following resources:
SSPA Journal
Quarterly magazine commenced in December, 1969 to inform members of the social and business activities occurring in the SSPA, both nationally and within the states, as well as medical news concerning short stature and snippets from overseas LP associations. It is circulated to all financial SSPA members.
Little People Big Lives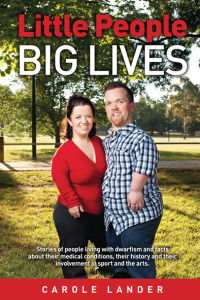 Little People BIG LIVES gives voice to a range of people living with dwarfism. One of them is Warwick Davis, renowned British actor (Star Wars, Life's Too Short) who co-founded Little People UK. Several others members of Short Statured People of Australia are profiled in the book.
Professor Ravi Savarirayan, Head of Clinical Genetics Service at the Murdoch Children's Research Institute in Melbourne, Australia says: "In an age where body image seems to be so important, this book will go a long way to proving that people living with a different physique can lead normal lives and achieve their goals."
The profiles include men and women of all ages and backgrounds. They have a variety of careers and the Fast Facts sections provide interesting information that includes –
Famous people in history who have been dwarfs
Sporting achievements in the Paralympics and World Dwarf Games
Artistic achievements now and in the past – actors, comedians, artists …
Medical conditions related to dwarfism
Copies of the book can be purchased here
Basketball Tree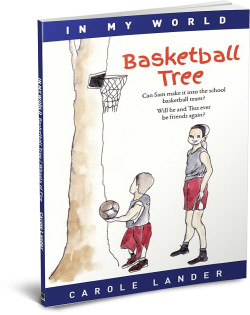 Sam wants to be good at basketball. With his dwarfism he's very short while his friend Tess is very tall. Can they both get on the school team? And will Sam ever find out what's wrong with the class bully who's behaving very strangely?
Copies of the book can be purchased here
'Growing In Stature' (Book on the history of the SSPA)
The definitive history of the SSPA from its humble beginnings in Port Macquarie, New South Wales in 1968 through to its hosting of the Second International Convention of Little People in Sydney in 1988.
It includes chapters on:
How the organisation began
The first National Convention
Medical aspects and developments
Youth development
Overseas links
S.S.P.A. Journal
Development of the State branches in Victoria, New South Wales, South Australia, Tasmania, and Western Australia.
"This book is a must read by Little People and those of average stature." – Rosemary Hobbs B.E.M., co-founder, S.S.P.A.
Copies of this book can be obtained by contacting: the SSPA Membership Secretary, Vicki Fallon at: [email protected].
'Walking Tall' (DVD)
DVD video presentation dealing with the experience of being "four-foot tall in a six-foot world" as seen through the eyes of both short-statured and average-sized members of the S.S.P.A. It shows the day-to-day experiences of short-statured people as they go about their daily lives, as well as discussing social relationships, the problems with public transport and building access. Some ingenious solutions to everyday problems are also highlighted. It is a follow-up to a video titled "Four-Foot Tall in a Six-Foot World".
Copies of this video are available for purchase for $10 (Aust.) each, plus $4 for postage and packing.
To obtain a copy, contact us
Publicity talks
The SSPA through its State branches, receives and accepts requests for its members to undertake public speaking engagements to community groups, schools, etc. For more information contact the SSPA State Branch secretary in your State.