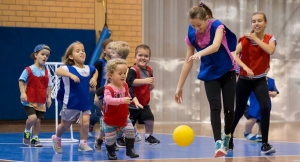 The 22nd SSPA National Sports Weekend was held between Friday 10th – Monday 13th June in Albury, NSW. This weekend began back in 1995 purely to provide an opportunity for the State of Origin basketball clash to take place between NSW and Victoria. The first weekend was attended by about 30 people. This year, we celebrated our 22nd weekend and enjoyed the company of 116 people. Before I wrap up the sports, I would like to thank the following people: Marg Daly, Luke Kirkegard, Tom Carney, Meredith Young, Ashleigh Hutchins, Sammy Lilly & Leon Lilly – their assistance was much appreciated. And to the many, many helping hands throughout the weekend, there are too many to mention but it all comes together because of our helpers.
Social Sport: Once again it was great to see an abundance of participation by all ages in our social sport. This year, Kids and Open Ages were able to participate in T-Ball, Tag Rugby, Soccer, Basketball, Laser Tag, and Fun Games for the Kids. The kids certainly put on a show in all sports – their athleticism, teamwork and determination really shone through. I look forward to watching this group develop – no doubt we have some future Paralympians and World Dwarf Games representatives amongst us.
Basketball State of Origin: As of 2015, 18 State of Origin matches have been contested with eight wins to NSW and ten wins to Victoria. Victoria have been on a winning streak; they have won the past five series in a row. NSW were certainly the underdogs, but their determination, new coach (Luke) and overall teamwork lead them to victory – NSW secured the 2016 Rosemary Hobbs Trophy in a nail-biting game. Entering the final quarter, NSW were leading 10–6; with five minutes to go it was 10 all. Victoria then led 12–10 with four minutes to go. Two minutes to go it was all tied up at 12 all. In the final minute with 45 seconds left on the clock, NSW scored to seal the victory. Final score NSW 14 to Victoria 12. Congratulations to all players that took part, in particular the 2016 Most Valuable Player from NSW – Jayson Blinco (on debut).
Badminton & Boccia: Eight pairs took part in the 2016 Badminton Tournament – some great matches were played with very close scores in the round games. The final was contested between Luke Missen/Anna Sydenham and Dawn Bos/Nina Kersten. Congratulations to the 2016 victors: Luke and Anna on their 21–18 win.
Six individuals took part in the Boccia, again so many close games and lots of surprises/upsets. Firstly, the bronze medal was taken out by Debra Keenahan after beating Pete Woods. The final came down to a tie breaker between a veteran of the sport, Bob Smith, and our youngest ever finalist, Emily Burgoine. Congratulations to Bob whom took out the 2016 Boccia Cup, and our runner up Emily, who no doubt has a bright future ahead!
Mini Olympics: This year we included a new and exciting event – the mini Olympics. We had eight teams rotate between eight challenges. They had a "minute to win it". Each challenge had its own scoring system which led to the overall result. It was great to see everyone getting involved including, the 'Old-timers' (who had the most fun by far), 'Families', 'Friends', 'Siblings' and so forth – a truly inclusive, fun event for all. Our Wooden Spooners for the 2016 Tournament went to the 'Newbies', Captained by Jayson and Sarah, and our 2016 Champions who defeated second place (the 'Siblings') by 3 points were 'The other forms of Dwarfism' team, captained by Anthony and James. I have no doubt this event will be back bigger and better in 2017!
National Sports Weekend 2016 Video – check it out at:
https://www.facebook.com/SSPAQLD/videos/725379244268685/
Stay tuned and touch base through our Website, YouTube or Facebook Page.
Kobie Donovan